Córdoba, November, 21st 2008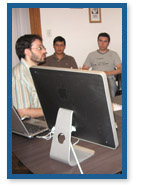 In November, 21st it was performed the second presentation of the GeeksHive model, within the bounds of the selection Program of the first Computer specialists certified to the community.

In addition to the invited specialists, the event was useful for those that had already entered the community to introduce their first referrals, strengthening the model´s expansion.
The showcase was in charge of GeeksHive MKT director, B. Psy. Victor Enrique Cáceres, and was held in the community´s headquarter in Córdoba.
As stipulated, those who applied to an individual interview and the technical test will become active members of GeeksHive International implying the professionalization of IT specialists and the regulation of their practice worldwide.