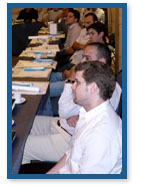 During the launching stage of GeeksHive in Córdoba, the Program Partnership (PP) began a selection process of what will be regarded as the community gene of that area.
The purpose is to detect, select and train an initial team of Technologic Information (IT) Specialists that will be responsible of beginning the implementation of the model and its attributes.
This purpose began on October 25 and will extend until the last months of the current year at Winsor´s Hotel of the above mentioned city. It had the presence of the founding directors of the model, representatives of OCA (strategic partner in charged of logistics) and the support of its associated brands.
The process implies open summons, introduction of the model and individual interviews with the PP Human Resources Team. In addition, there will be added trainings about extranet use and deontological advice for the regulation of a specialty which is expected to become, in the next few years a collegiate activity cherished in a global society.
For more information about this subject you can write to: