Córdoba, October 25th, 2008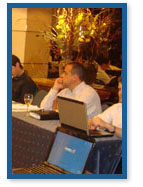 OCA, the strategic partner of GeeksHive Community, is the company in charge of every logistics aspect related to the model at national level. It was present in the launching event and was represented by Francisco Suarez, the commercial supervisor in Argentina, in the Northeast and Center of the Argentinean country.
GeeksHive International showcase had the presence of prestigious trademarks like Novatech, TPLink, Kozumi and others but undoubtedly one of the most outstanding was OCA. It reasserted its support to the community as strategic partner and as an essential part of the model.
Francisco Suarez, the firm´s representative, took part of the showcase and answered questions related to logistics aspects enhancing the importance of incorporating to GeeksHive International the reliability and support the company represents.