Buemos Aires, January 10th, 2009
Hive directors made a run of meetings with widely recognized trademarks in search of new commercial agreements.

From 7th to 9th of January lasting meetings were held with trademarks of international impact that showed interest to become an active part of the community.
In the same manner, during the first months of 2009, GeeksHive International is planning presentations and launches all over the country. "The community is growing with giant steps. We need to trust the model strongly; following this path we will achieve great things during this year and the following one" stated Sebastián Borrás during the summon.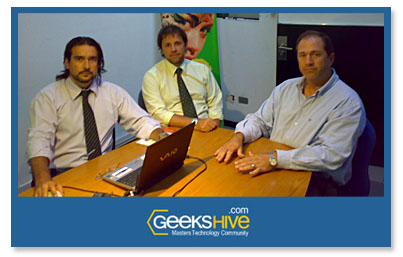 Photo: Sebastián Borrás, Favio Verdecchia y Adrián De Reatti
Directors of GeeksHive International