Buenos Aires, February 13th, 2009

With over than 20 years in the IT market and the production of 2.5 million of Motherboards a month, ECS Elitegroup Computer Systems Inc. joins GeeksHive community.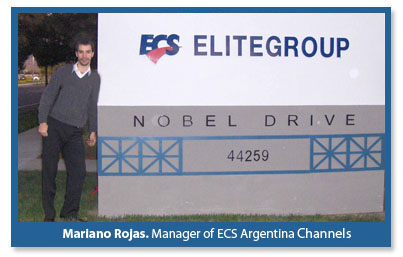 "We invite GeeksHive´s members to participate in the trainings we are bringing so they can offer their clients not only a product but also full and real advice", explains Mariano Rojas, ECS Channel Manager for Argentina.
"Nowadays, the society is mutating towards new trends, exposing instructional deficiencies. In ECS we consider highly important the possibility to bring an added value to computer products and services. We are aware that the wide range of products that conforms PC Hardware is commonly considered with simplicity and treated without the proper knowledge and, also, that this carries not only future problems but also poor resource exploitation."
After the launch of its Black Series, in 2008, ECS set, for this year, the objective of bringing an integral support not only to wholesalers but also to end consumers, making the work easier and more dynamic.
"It is useless to invest funds in shares focused only on distributors or on specific groups of clients, while the product is consumed by thousands of people in the market" states Rojas.